The 'River Rat' is back: Corey Nott
Local artist makes impressive debut at Gallery F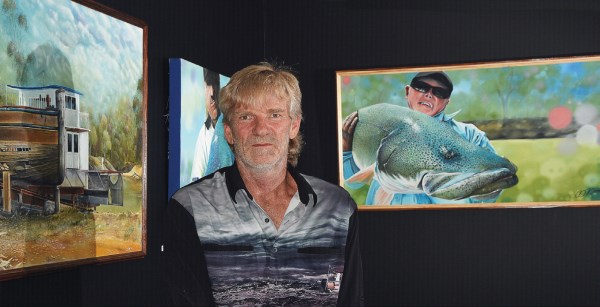 DESCRIBING himself as a 'river rat' and artist, Sunraysia talent Corey Nott launched his comeback exhibition at Gallery F on Wednesday night.
Boasting a passion for paint, canvas and the river since childhood, the selftaught artist has recently rekindled his love for art after a 20-year hiatus – and is now ready to once again share his talents with the world.
His new exhibition boasts an extensive and impressive body of work crafted from both oil and watercolour.
"I just thought I'm getting old, so I need to get out of my shell," Mr Nott said.
"Art for me is an escape from reality – a sense of freedom, and when paint hits the canvas the whole world seems to disappear letting my mind wander away with the
anticipation of blending colours, testing the boundaries of technique and style within myself."
Expanding over two galleries, Mr Nott has covered the walls with detailed and skilled pieces of wildlife and scenery attached to the Murray and Darling Rivers, which he has painted in the past year or so.
"Sometimes I can paint for hours!" he said. "I'll get up at 7am, and still be painting at 10pm that night. It's like an addiction when it gets like that. I just can't help myself.
"I dedicate a lot of time to my paintings, sometimes 60 hours, sometimes 70, sometimes 120 – but it's better than watching TV!
"I am inspired by my surroundings and those of the Murray and Darling Rivers, robust land, the bush, birds and fi sh, and so much more.
"I just love the river and my backyard – I just see things and I want to paint it all!" Passionate about the environment, Mr Nott hopes those who come and see his work appreciate the beauty of
the natural world located so close to our backyard in Sunraysia, and start to take more care.
"I find it so sad to see our river dying. It is turning into another graveyard for wildlife," he said.
"Braeden Lampard is one of our passionate environmentalists who has been making a desperate attempt to save our wildlife – he can be seen in one of my paintings setting up aerators in the Darling River, which was a massive attempt to save the iconic Murray Cod and native fish from certain death.
"My heart goes out to those who live on the Darling, and I give my many thanks to those who are trying their hardest to save our environment.
"However, I still see people throwing rubbish and bottles into our river. That brings a tear to my eye, and my heart cries too – the tiniest amount of respect can make the biggest difference!
"I love this rugged land… and we need to respect our river, fish and bush, the old, majestic and mighty Murray and Darling Rivers in our backyard."
To see more of Mr Nott's work, visit the Nangiloc Tavern, where his work is displayed permanently.
Mr Nott's exhibition will run throughout December, and can be viewed from 10am to 4pm Thursday to Friday, and 10am to 2pm on Saturday and Sunday.